Dil Darya E Mohabbat
By Maryam Batool
This story is based on love, cousin's attachment, one-sided love/silence, unique and true love, Funny, sad Social Romantic novels, age difference-based, And social issues-based Novels…
The meaning of the Novel is just Amazing the Heart is the river of Love. The heart is not made for hatred, it has a specific purpose that every human being should understand. is a story that tells us the value of innocent lives, and the story of people who are going to eradicate hatred, they believe only one thing that the heart in their chests has a purpose to spread love and nothing else, not every story ends badly in a one-sided love story, sometimes God rewards us so beautifully in return for this one-sided love, in the form of another person who loves us more. Moreover, The purpose of the Heart is described beautifully.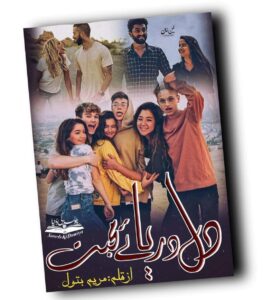 This novel was published on our

 

page/group/website

.
We are supporting new or old writers to show his/her talent. we are giving them a new platform to show their writing power. we are promoting writers on FB/instal and google. and help them to write and give them a suggestion about online writing.  

You can find

 here a 

complete pdf novel

. With very 

beautiful stories

. We are always wanted to provide you with 

very unique or Exciting stories

.
 SO, you came to the right place for novels according to your mood. here you will get an amazing novel that you have not ever read so, kindly don't forget to share your reviews and do follow us on Facebook and Instagram
Download this Interesting novel and share your reviews in the comment section…..
 

THANK U
CLICK ON BELOW THE WORDS
ناول کو ڈاؤنلوڈ کرنے کے لیے نیچے دئیے گئے لال الفاظ پر کلک کریں ۔
We hope novelskidunya, novelskiduniya readers even more Readers will like this beautiful novel "Dil Darya E Mohabbat"
 and must give their feedback.
Maryam Batool's novel list is listed below.