Man Tu Shudam
By Manal Sana
"Man Tu Shudam" story is Based on a Social Romantic based, Force Marriage based, a Rude heron, Second Marriage After Marriage based, Age Difference based, Complication Relations, Misunderstanding, a Humble and Caring hero, a Selfish And Stubborn Heroin, a Doctor hero, a Village story, Orphan Hero Heroin, Heart touching and The other details of the rest will be found below…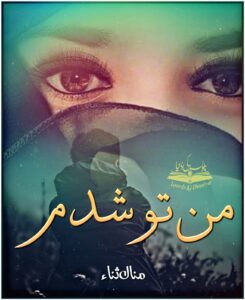 ۔
Man Tu Shudam By Manal Sana
Everything in the world is mortal. Every emotion does not last forever, but at the same speed as the wheel of time moves, things perish and emotions fade away. But one word is 'love'.
This is a passion that cannot be destroyed. And why? Is love a material emotion? It is a beautiful feeling far away from an existence where the soul resides.
Yes, this is the passion that does not perish.
Then, under this spirit, the stories begin. In some characters sacrifice themselves for love, some nurture love and some lose it.
So this story is also about the characters revolving around love. Some characters will immortalize their story by sacrificing for the sake of love and some will immortalize love itself. There are only two limits to love. One is the human being himself. It becomes selfish…..and on the other, a person becomes selfless. So in this story, a selfish character is 'Barira', who cares about nothing but his love. And on the other hand, there is a need… .a selfless character….who understands nothing but 'Barira'.
Who is in love with Barira to the extent of "Man Tu Shudam". Then there is another character which is 'Naz'. This is the character who sacrifices for love and dictates his story…and who There is nothing but need.
Similarly, this short story begins with some characters suffering from pain, which at the end will take an unknown direction. In the end, the unknown character will go to the extent of "Man tu shudam" like in love of whom. Maybe the beginning. The ending seemed obvious, the story seemed too simple or what did the unknowing readers think?
دنیا کی ہر شے فانی ہے۔ہر جذبہ بھی ہمیشہ نہیں رہتا بلکہ وقت کا پہیہ جس رفتار سے چلتا ہے اُسی رفتار سے اشیاء فنا اور جذبے ماند پڑ جاتے ہیں۔مگر ایک لفظ ہے 'محبت
یہ ایسا جذبہ ہے جِسکو فنا نہیں۔اور ہو بھی کیوں؟ بھلا محبت کوئی مادی جذبہ ہے؟ یہ تو خوبصورت احساس ہے وجودوں سے کہیں دور جہاں روح بستی ہے۔
ہاں یہ وہ جذبہ ہے جو فنا نہیں ہوتا۔
پھر اِسی جذبے کے تحت تو کہانیاں شروع ہوتی ہیں۔جس میں کچھ کردار اپنا آپ وار کر محبت کے لیے قربانیاں دیتے ہیں، کچھ محبت کو پالیتے ہیں اور کچھ کھو دیتے ہیں۔
تو یہ کہانی بھی اِسی طرح محبت کے گرد گھومتے کرداروں کی ہے۔کچھ کردار محبت کی خاطر قربانی دے کر اپنی داستان امر کریں گے اور کچھ محبت ہی کو امر کر دیں گے۔محبت میں صرف دو ہی حدیں ہوتی ہیں۔ایک میں انسان خود غرض ہو جاتا ہے…..اور دوسری میں انسان بےغرض ہو جاتا ہے۔تو اِس کہانی میں ایک خود غرض کردار 'بریرہ' کا ہے۔جسے اپنی محبت کے سوا اور کچھ نہیں سوجھتا۔اور دوسری طرف ابتہاج ہے….ایک بےغرض کردار….جسے 'بریرہ' کے سوا کچھ نہیں سوجھتا۔
جو "مَن تُو شدم" کی حد تک بریرہ کی محبت میں گرفتار ہے۔پھر ایک اور کردار ہے جو کہ 'ناز' کا ہے۔یہ وہ کردار ہے جو محبت کی خاطر قربانی دے کر اپنی داستان امر کرتا ہے…اور جسے ابتہاج کے سوا کچھ نہیں سوجھتا۔
اِسی طرح مختصر سی یہ کہانی کچھ درد سہتے کرداروں کے ساتھ شروع ہوتی ہے جو اختتام پر ناجانے کیا رُخ اختیار کر لے۔اختتام میں ناجانے کونسا کردار کس کی محبت میں ابتہاج کی طرح "مَن تُو شدم" کی حد تک جا نکلے۔شاید ابتدا میں ہی اختتام واضح لگنے لگے، کہانی بہت سادہ سی لگے یا ناجانے قارئین کو کیا لگے۔؟
Man Tu Shudam Complete Pdf Link |Man Tu Shudam Novel Pdf Download |Manal Sana Novel |Manal Sana Novel Pdf |Man Tu Shudam Pdf Download
Urdu Complete Novel |Manal Sana Complete Novel | Romantic Novel 
This novel was published on our page/group/website.
We are supporting new or old writers to show/her talent we are giving them a new platform to show their writing power we are promoting writers on FB/Instagram and Google and helping them to write and giving them a suggestion about online writing. 
You can find

 here a 

complete pdf novel

. With very 

beautiful stories

. We always wanted to provide you with

very unique or Exciting stories

.
 So, you came to the right place for novels according to your mood. 
Download this Interesting novel and share your reviews in the comment section.
How to download this novel

:- click the 

red

words you can see on this page, and wait for 

5 seconds

don't allow any applicant on your device just do 

deny

 and 

skip the ad

, then the next page is open click on 

blue

 words, then 

download

 the novel from the click on the 

green box.
 

THANK U
CLICK ON BELOW THE WORDS
ناول کو ڈاؤنلوڈ کرنے کے لیے نیچے دئیے گئے لال الفاظ پر کلک کریں ۔
۔
We hope novelskidunya, novelskiduniya readers even more Readers will like this beautiful novel "Man Tu Shudam"
 and must give their feedback.
Likewise, You can follow our Facebook page novelskiduniya.
And You can also follow novelskidunya on Instagram
Manal Sana's novel list is listed below.