Tujh Sang Nikhron Main
By Husnah Hussain
"Tujh sang Nikhron main" is based on a Romantic-based novel, Friendship-based, Funny-based, Family, Relations, Cousins-based, Suspense, and Informative, Lesson able.
 the story revolves around many characters… Each character is beautifully described by the writer in a different way in her story. This is the story of some friends.  This is the story of many relationships.  This is the story of the family. In this story, you will find many things to learn…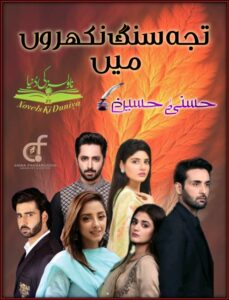 Tujh Sang Nikhron Main By Husnah Hussain
Husnah Hussain Pdf novel |  Tujh sang Nikhron me pdf novel, 
Urdu Complete Novel,  Complete Novel, Complete Pdf, Urdu Romantic Novel. 
We hope novelskidunya, novelskiduniya readers even more Readers will like this beautiful novel "Tujh Sang Nikhron Main"
 and must give their feedback.
Likewise, You can follow our Facebook page novelskiduniya.
And You can also follow novelskidunya on Instagram
 Husnah Hussain's novel list is listed below.