Hinave
By Noor Rajpoot
"Hinave" is Based on Hate And Intense Love, Two Political Families, Hatred of two Families, Wadera, Army, Lawyer, Spoiled boy, Cousins, Funny, Adventures, Police, Revenge Family Love And a beautiful story about justice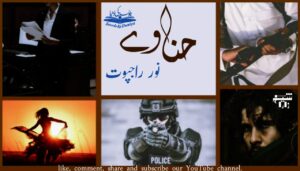 This is a story of hate  The story of hatred flourishes in two political families but here is a society where women had to fight for their rights The story of a society where women make mistakes they are never forgiven What is done? The fog that runs under the guise of politics destroys the lives of hundreds of people.
it is the story of Hinave Rana and Aman Malik Where castes do not allow love.
What happened in the life of a carefree, playful girl who was very frivolous and landless that she became angry with everyone? A story of hatred that you have never read…
The writer has done full justice to each character… As a result, it ended so beautifully that for a long time this story will go home in the hearts of all of you…
Hinave
By Noor Rajpoot
This novel was written by a sulphite writer "Noor Rajpoot"
she writes very maturely. There is no nonsense romance. people are interested in every novel you should read the novels
This novel is published on our page/group/website we are supporting new or old writers to show/her talent we are giving them a new platform to show their writing power we are promoting writers on FB/Instagram and google and help them to write and give them a suggestion about online writing.

you can find here a complete pdf novel. with very beautiful stories. we are always wanted to provide you with very unique or interesting stories.
 So, you came to the right place for novels according to your mood. 
Download this Interesting novel and share your reviews in the comment section.
How to download this novel:- click the red words you can see on this page, wait for 5 seconds don't allow any applicant on your device just do deny and skip the add, then the next page is open click on blue words, then download the novel from the click on the green box. 
                       THANK U
CLICK ON BELOW THE WORDS
We hope novelskidunya, novelskiduniya readers even more Readers will like this beautiful novel "Hinave"
 and must give their feedback.