Sulphite 
(zindagi ke sath pehron ki kahani)
By Noor Rajput 
"Sulphite" (Zindagi ke sath pehron ki Kahani) story based on the unique story, Islamic, singer hero, hijabi-heroin, Muslim-scholar, university mate, abroad, science, Romantic, stubborn-hero and much other knowledge you can gain from it.
Before talking about the novel, I would like to appreciate the title cover of the novel. Yes, the Sulphite novel is as unique as its name. Throughout the novel, this man will not be hated at all because if he asks a question, answer it. Is he a disbeliever? How does he talk about Allah even when a person does not get an answer to his question? How can he believe when the questions of this child have been ignored since childhood? The way he talks logically should be answered in the same logic when a person does not believe in religion at all and you still read the Quranic verses. How will he believe you when he is a denier of Islam?
Sulphite 
(zindagi ke sath pehron ki kahani)
By Noor Rajput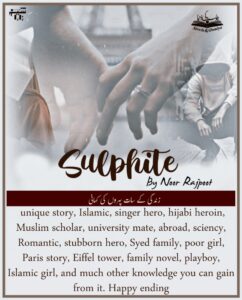 you can learn in this novel how can we give the answer of an atheist in a logically way every character in this novel is beautifully defined and has heart-touching emotions.
This novel was written by a sulphite writer "Noor Rajput"

Noor Rajput dedicates this novel to "Dr Zakir Naik"
This novel is published on our page/group/website we are supporting new or old writers to show/her talent we are giving them a new platform to show their writing power we are promoting writers on FB/instal and google and help them to write and give them a suggestion about online writing.

you can find here a complete pdf novel. with very beautiful stories. we are always wanted to provide you with very unique or interesting stories.
 So, you came to the right place for novels according to your mood. 
Download this Interesting novel and share your reviews in the comment section.
How to download this novel:- click the red words you can see on this page, wait for 5 seconds don't allow any applicant on your device just do deny and skip the add, then the next page is open click on blue words, then download the novel from the click on the green box. 
                       THANK U
CLICK ON BELOW THE WORDS
We hope novelskidunya, novelskiduniya readers even more Readers will like this beautiful novel "Sulphite  "
 and must give their feedback.
 Noor Rajpoot's novel list is listed below.